Happy Saturday everyone!  Today we would love for you to meet Kelley from the Grant Life, one of our sweet new sponsors!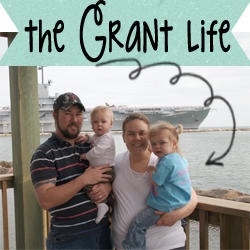 Kelley is  a stay at home momma to a 2 year old toddler girl and a one year old baby boy.  She recently opened a small online shop calledLoveables where she sells pretties for moms and daughters. She loves being knee deep in crafts and has made a resolution to try at least one new recipe a week! Kelley also just started to offer  online services as a virtual assistant!  
Here is a taste of what you will find on the Grant Life  …
Also these fabulous Series features…
From Kelley's Shop, Loveables
The Grant Life is such a fun blog to read and Kelley is so funny and such a great mom!  We would love for you to stop by and say hello!  You can also find her on
twitter
or
facebook
!
Thanks Kelley for being such a wonderful sponsor! 
*Bonnie and Trish
We hope that you will click on over to see the rest of this post!
The following two tabs change content below.
Hey Y'all! We are Trish and Bonnie, sisters-in-law and moms. We share a passion for creating crafts, home decor, seasonal items, and parties. We are happy to have you stop by our site and we hope to inspire you in Creating the Extraordinary out of everyday!
Latest posts by Trish & Bonnie @ Uncommon Designs (see all)