Need a little inspiration for some Gift Wrapping Ideas ? We have teamed up with some of our blogging friends to inspire your gift wrapping…
Aren't they lovely?!  We created the little boxwood wrapped gift with the JOY letters.
Here are the supplies you will need to create your own Boxwood Wrapped "JOY" Gift Wrapping…
Step 1… 
Wrap your gift in the brown craft paper. This paper is thicker than standard wrapping paper, so make sure that you make good creases in the folds!
Step 2…
Next, fold over the edges of the glitter paper and tape around the center of the gift. I used a rectangular shaped gift box, so I used a piece of glittered paper about 2/3 the size of the gift.
Step 3…
Next, take the mini faux boxwood garland and simply wrap it around  the gift from front to back, and then back to front. Twist the ends together and twirl them a little on the ends. Love how it it coming together! The contrast of the glittered paper and boxwood garland is beautiful!
Step 4…
Finally, apply the red glittered letters to the mini tags and string them on the red and white baker's twine. Clip them onto the boxwood garland with the mini clothespins. You could do so many different words, the possibilities are endless! I just love the word.. JOY… at Christmas!
Now, hop on over to our sweet friend's blogs and check out their incredible Gift Wrapping Ideas too!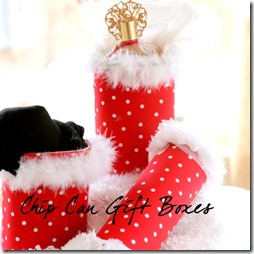 Laura at Top This Top That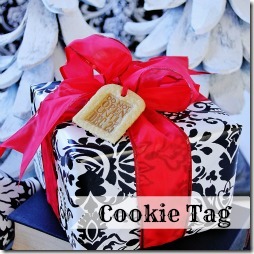 Karianne at Thistlewood Farm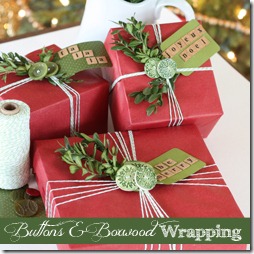 Laura at Finding Home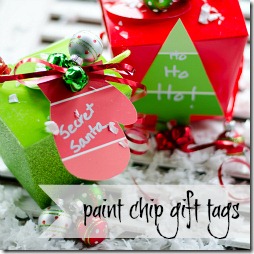 Linda at It All Started With Paint
Bonnie