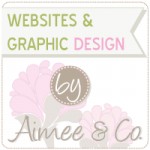 If you are like most bloggers or those who follow blogs, you are always checking out how sites are designed.  I am thrilled to introduce you to our sponsor…
I will let Aimee tell you a little about herself…
"I'm a total Jesus girl. wife to a US Marine for 9 1/2 years. stay at home momma to jack & abby. living in sunny Southern California for now. LOVES small businesses. shops locally. degree in Business Administration with a concentration in small business & entrepreneurship from National University, La Jolla, CA. from a big family of entrepreneurs. i run, bake, decorate, craft at

FLT

, extreme type A personality & will do whatever it takes to make YOU HAPPY!!!"
Seriously… could she get any more amazing? She even has other seriously talented people on her team, as well!
Check out some of the Services she offers at Website and Graphic Designs by Aimee & Co.
Website Design
Not only is  Aimee a contributor at Fancy Little Things, but she totally remodeled the design of it, too!  I really love the simplicity of her work, so pretty! 
Here are a few of her website services: 
*Blog transfer from Blogger to WordPress
*Blog or website design packages
*Small business website services
*E-commerce solutions
*Maintenance packages
Graphic Design
*Logo and brand identity designHere are a few of her graphic design services:
* Social media customization
*Advertising buttons
*Printable designs including business cards and postcards
By Aimee & Co. also can help you on the topics of SEO, website writing and editing, writing biographies, Newsletter and email campaigns, as well as consulting for starting a small business!  
Does this sound like a one stop shop for all graphic, branding, and overall business solutions for bloggers, or what?  I think so!    
Aimee also has some great blog features, as well…
Please stop by Aimee & Co. and see all of the amazing services on her website and free business and blogging goodies on her blog!  Thanks Aimee!
*Trish
We hope that you will click on over to see the rest of this post!
The following two tabs change content below.
Hey Y'all! We are Trish and Bonnie, sisters-in-law and moms. We share a passion for creating crafts, home decor, seasonal items, and parties. We are happy to have you stop by our site and we hope to inspire you in Creating the Extraordinary out of everyday!
Latest posts by Trish & Bonnie @ Uncommon Designs (see all)