Happy Thanksgiving Everyone!
Trish and I are truly thankful for all of our readers. We hope that today is a time of family, friends, and fun. We have so much to be thankful for, and are blessed to have each one of you spend a little time with us during this blogging journey!
We are so thankful for our families and that our children are able to grow up together and spend  Thanksgiving with each other. Such incredible memories they will have…
Our babies get bigger each year and the memories grow as well!
Trish and I hope that you create some special memories this Thanksgiving!
As our way of saying thanks to each of you, we are offering a discount code to our ESTY shop… Uncommon Fabrics… of  15% off through December 5th!! Simply use the coupon code… GIVETHANKS15 !!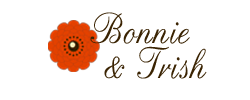 The following two tabs change content below.
Hey Y'all! We are Trish and Bonnie, sisters-in-law and moms. We share a passion for creating crafts, home decor, seasonal items, and parties. We are happy to have you stop by our site and we hope to inspire you in Creating the Extraordinary out of everyday!
Latest posts by Trish & Bonnie @ Uncommon Designs (see all)